The comprehensive complementary programme of events rounds off your visit to IFFA. These events give you a concentrated overview of the latest trends and developments in your sector.
IFFA Forum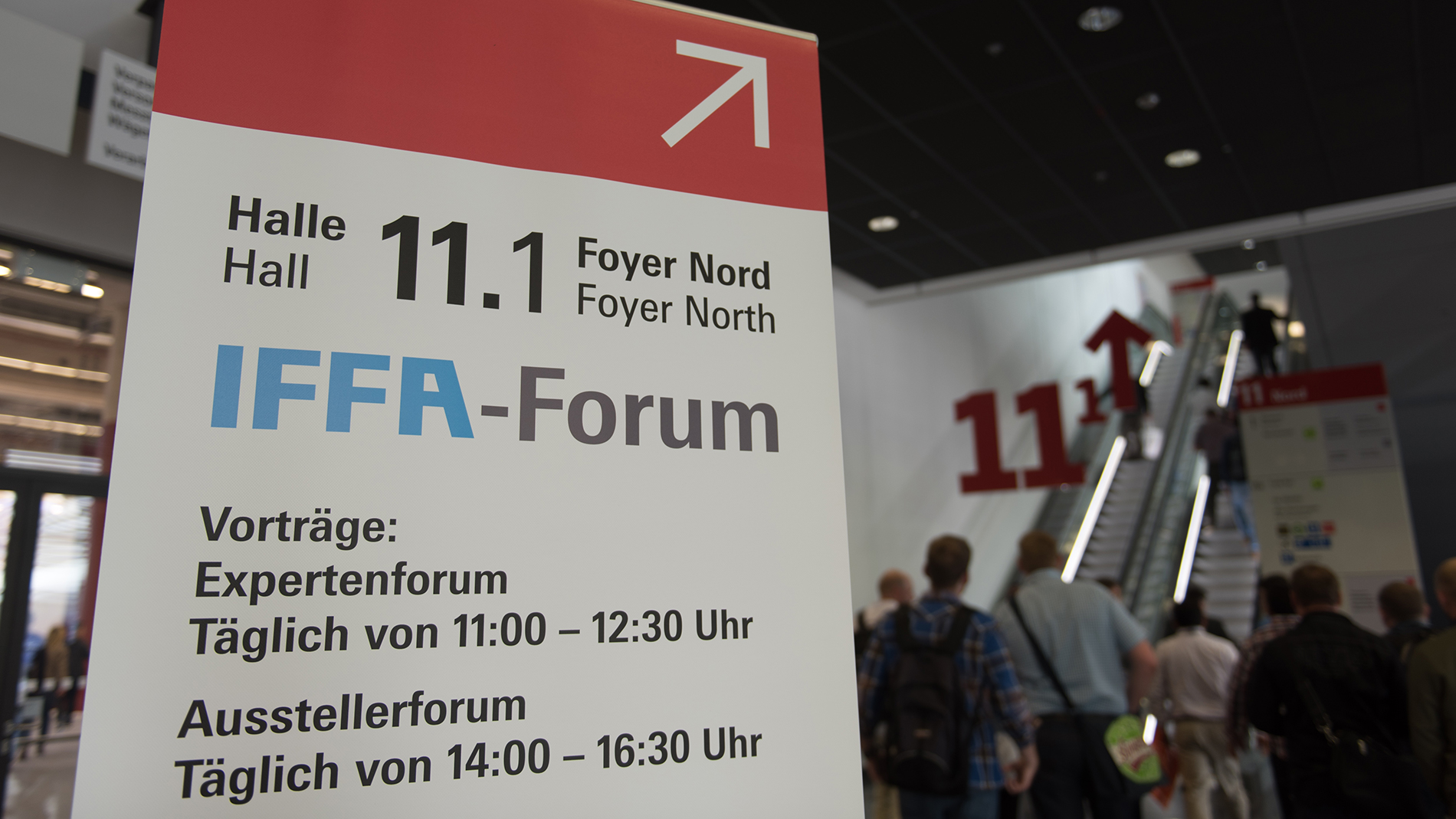 The IFFA Forum combined expert lectures with practical examples from exhibitors and highlighted an important industry trend every day.
On Saturday, the forum started, focusing on the topic "Food Trends: Ingredients". On Sunday everything in the forum revolved around "butcher's trade and sales". The fair Monday was dedicated to the top topic "Production Optimization and Digital Solutions", on Tuesday experts and exhibitors shed light on the current state of "Food Safety". On Wednesday, the IFFA Forum was dedicated to the theme of "Packaging", the final day of the fair was dedicated to "Resource Efficiency". All lectures are in German or English and were translated simultaneously.


Discover3Dprinting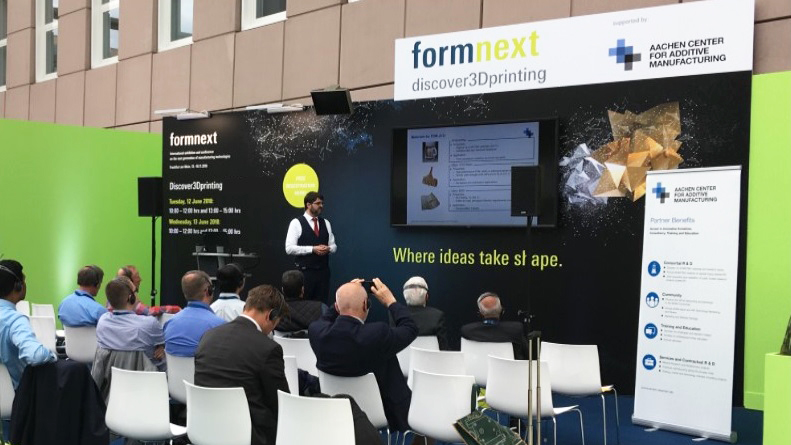 AM knowledge for your production
Organiser: Mesago Messe Frankfurt GmbH

The two-hour presentation was directed at CEOs, developers and other decision-makers interested in learning more about how they might utilize 3D printing. Among other aspects, participants found out where the potential of additive manufacturing lies and where it can benefit their own production operations.
More information
IFFA Kitchen
IFFA Kitchen is a production line in live operation. In 2019 the production line was extended and showed the process of sausage making, packaging and labelling live. The topic of clean-label recipe was also be covered. All finished products were available for immediate tasting afterwards.
With friendly support from:
Jumbo Schreiner meets IFFA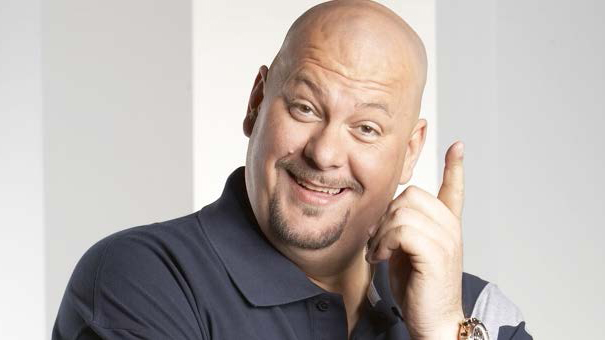 Jumbo Schreiner, well-known to German viewers as reporter and XXL food tester in Pro7 television's Galileo programme, came to IFFA. The barbeque expert visited the IFFA Kitchen production plant and discovered how sausages are made, packaged and labelled – live. Then, in a discussion with IFFA Kitchen presenter Bernhard Heuvelmann, he related some interesting anecdotes on the subject of meat. Afterwards, visitors were welcome to try the grilled sausages for themselves and take or have their photo taken with Jumbo Schreiner.
NEW: IFFA Discovery Tours  
For the first time at IFFA 2019, the fringe programme included the "IFFA Discovery Tours". Guided tours of various topics were offered daily.
Thematic tours 2019

Saturday, 4.5.2019

 

2 p.m.: Food Trends - Packaging

4 p.m.: Efficiency of resources

Sunday, 5.5.2019

 

12 p.m.: Production Optimization and Digital Solutions

2 p.m.: Food Safety

4 p.m.: Food Trends - Ingredients

Monday, 6.5.2019

 

12 p.m.: Efficiency of resources

2 p.m.: Food Trends - Ingredients

4 p.m.: Food Trends - Packaging

Tuesday, 7.5.2019

 

12 p.m.: Food Trends - Packaging

2 p.m.: Efficiency of resources

4 p.m.: Production Optimization and Digital Solutions

Wednesday, 8.5.2019

 

2 p.m.: Production Optimization and Digital Solutions

4. p.m.: Food Safety

Thursday, 9.5.2019

 

12 p.m.: Food Safety

2 p.m.: Food Trends - Ingredients

With friendly support from:

ADM Specialty Ingredients (Europe) BV
Afilados y Representaciones S.L.
Albert Handtmann Maschinenfabrik GmbH & Co. KG
bfm Ladenbau GmbH
CSB-System AG
Devro plc
Eagle Product Inspection LLC
ESPERA-WERKE GmbH
Fiberstar, Inc.
Friedr. Dick GmbH & Co. KG
GRASSELLI S.P.A.
Inotec GmbH
Leybold GmbH
METALQUIMIA S.A.U.
MOHN GmbH

MULTIVAC Sepp Haggenmüller SE & Co. KG
Niacet b.v.
Nothum Food Processing Systems
RAPS GmbH & Co. KG
Schur Flexibles Germany GmbH
Schur Star Systems GmbH
Sealpac International bv
Singer & Sohn GmbH
Sparc – Systems
TOMRA Sorting NV
V. MANE Fils SA
VELATI SRL
WEBOMATIC Maschinenfabrik GmbH
WITT-Gasetechnik GmbH & Co KG.
Market Place – the artisan butchers' rendezvous point at IFFA 2019
Meet colleagues and share experiences: the popular Market Place was again a central rendezvous point for artisan butchers to chat with colleagues from the sector in a relaxed atmosphere.
Competitions at IFFA
The international quality competitions, organised by the German Butchers' Association (Deutscher Fleischer-Verband – DFV), were held in the competition zone in the new Hall 12.0. Here all the participating butchers' businesses could compare themselves and their work at international level in terms of the variety of skills involved and quality of their products. It is not only the cups, medals and certificates that made these competitions attractive. They were also an important tool that butchers can use as a way of checking and improving the quality of their products.
International Competition for Young Butchers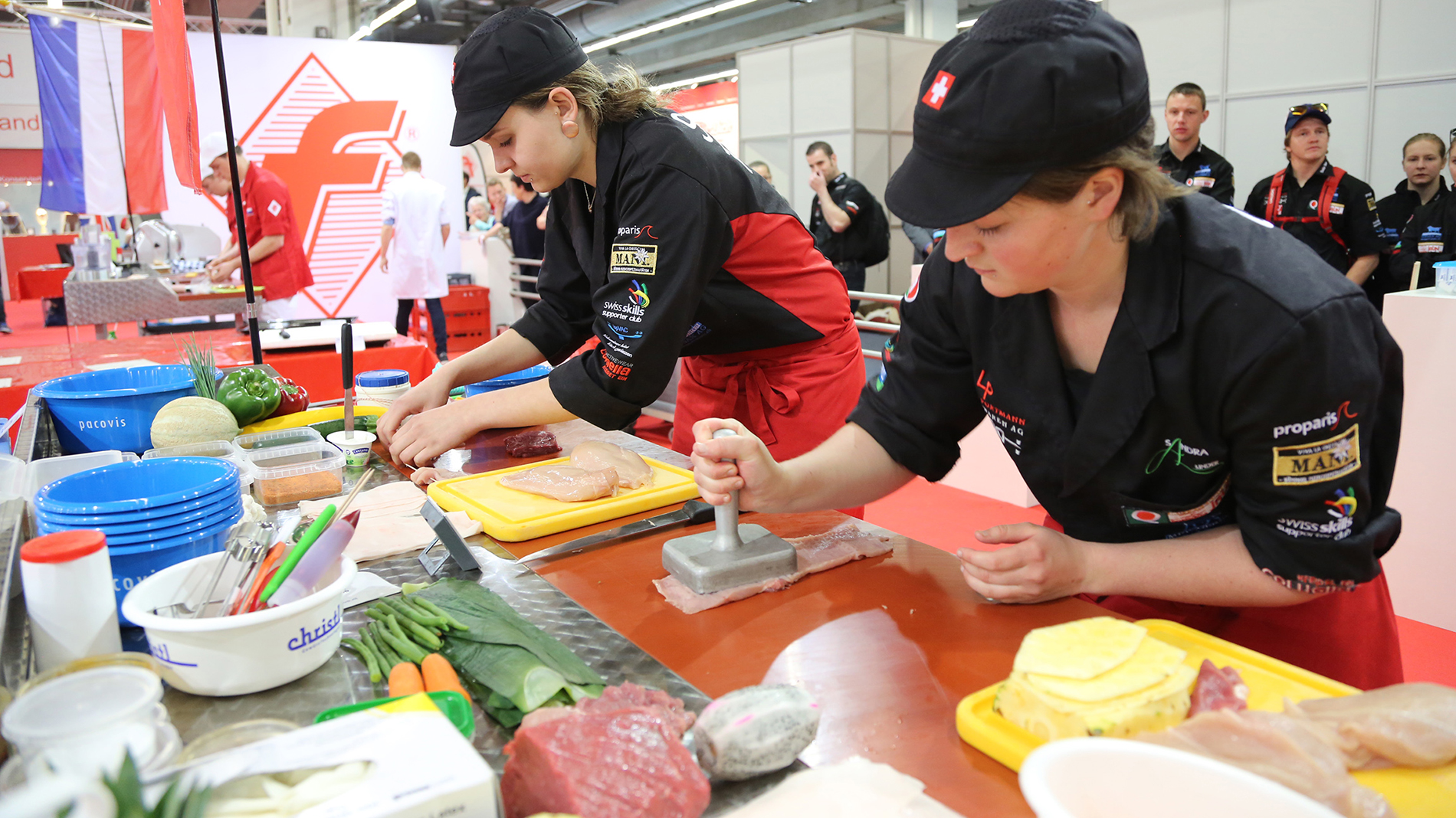 Europe's best young artisan butchers met here to compete in various disciplines of the butcher's trade.  The six two-person teams from England, France, Austria, Switzerland, the Netherlands and Germany were all working under the watchful eye of an international panel of adjudicators. They had to prepare, amongst other things, some barbecue specialities and a main meat dish, as well as presenting two ready-to-cook products. They had to cut the appropriate meat in advance and prepare it. All the competitors had previously qualified in national competitions and were showcasing their skills of the show in the competition zone, organised by the German Butchers' Association. The German team was made up from members of the German national team.
International Quality Competition for Sausage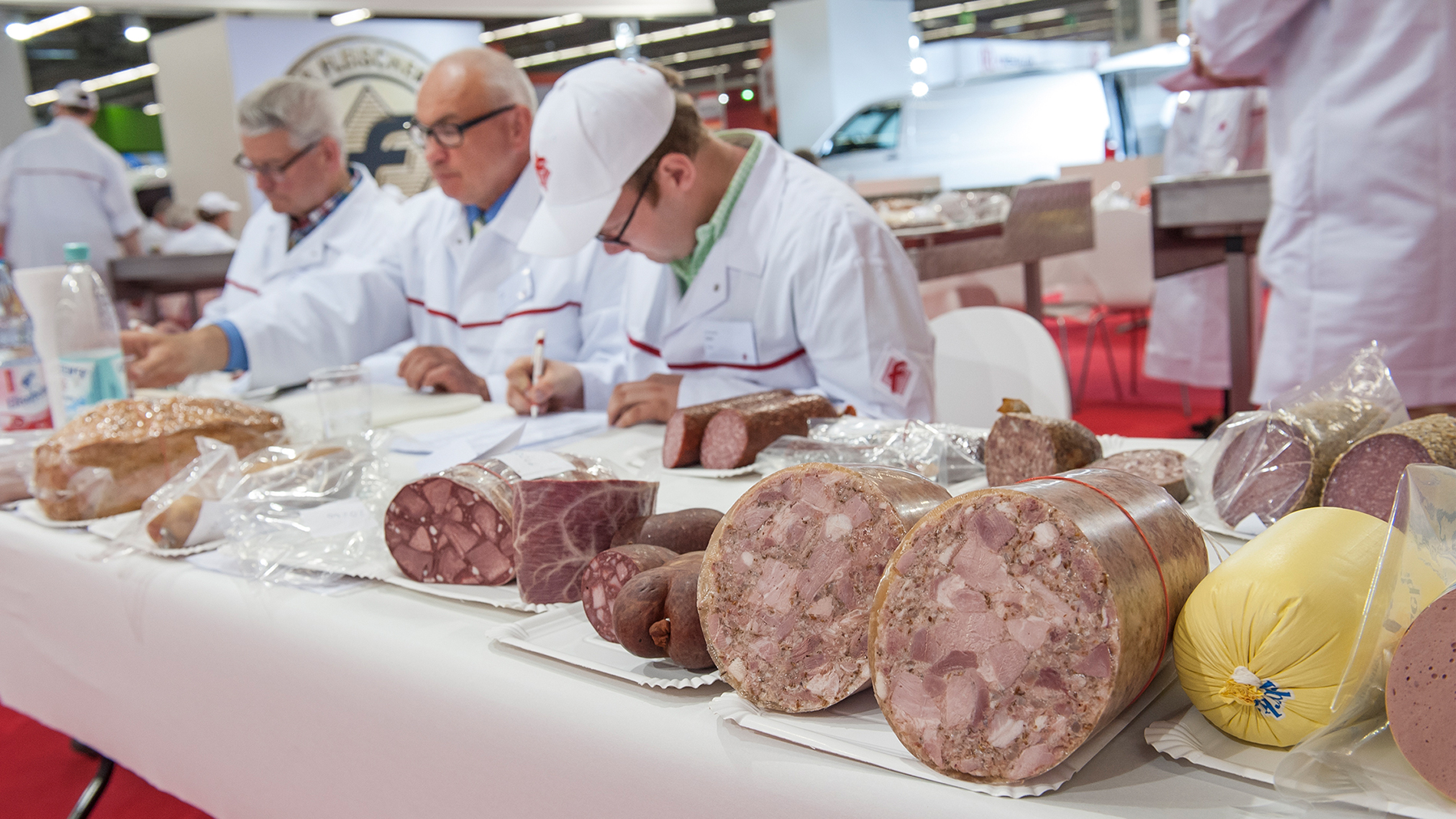 The winner here joins the ranks of the international elite: it was a championship that put traditional artisan skills under the microscope. Not only were various kinds of raw and cooked sausages for boiling and frying be assessed and rewarded in the competition; other meat products such as corned beef and roast meats were also adjudicated.

International Quality Competition for Products in Convenience Packaging, Cans and Jars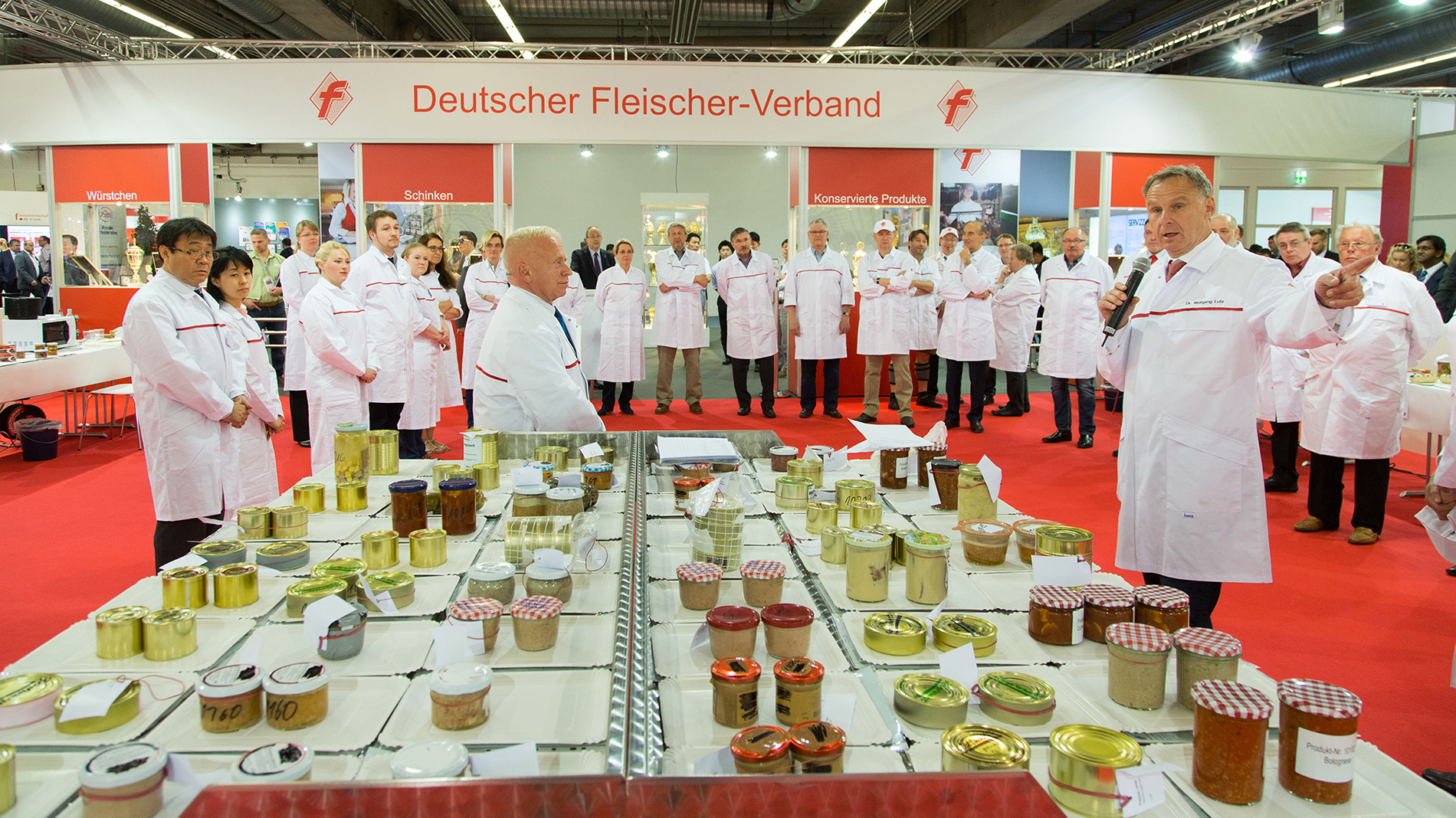 Quality scores particularly highly when it comes to convenience foods. The IFFA competition had its finger very much on the pulse of the sector and rewarded outstanding convenience-food products, which represent an ever more relevant trend. Along with ready-made items such as soups, meatballs and meat roulades, awards were also offered for tinned and bottled sausage products.
Butchers' training classes show off their skills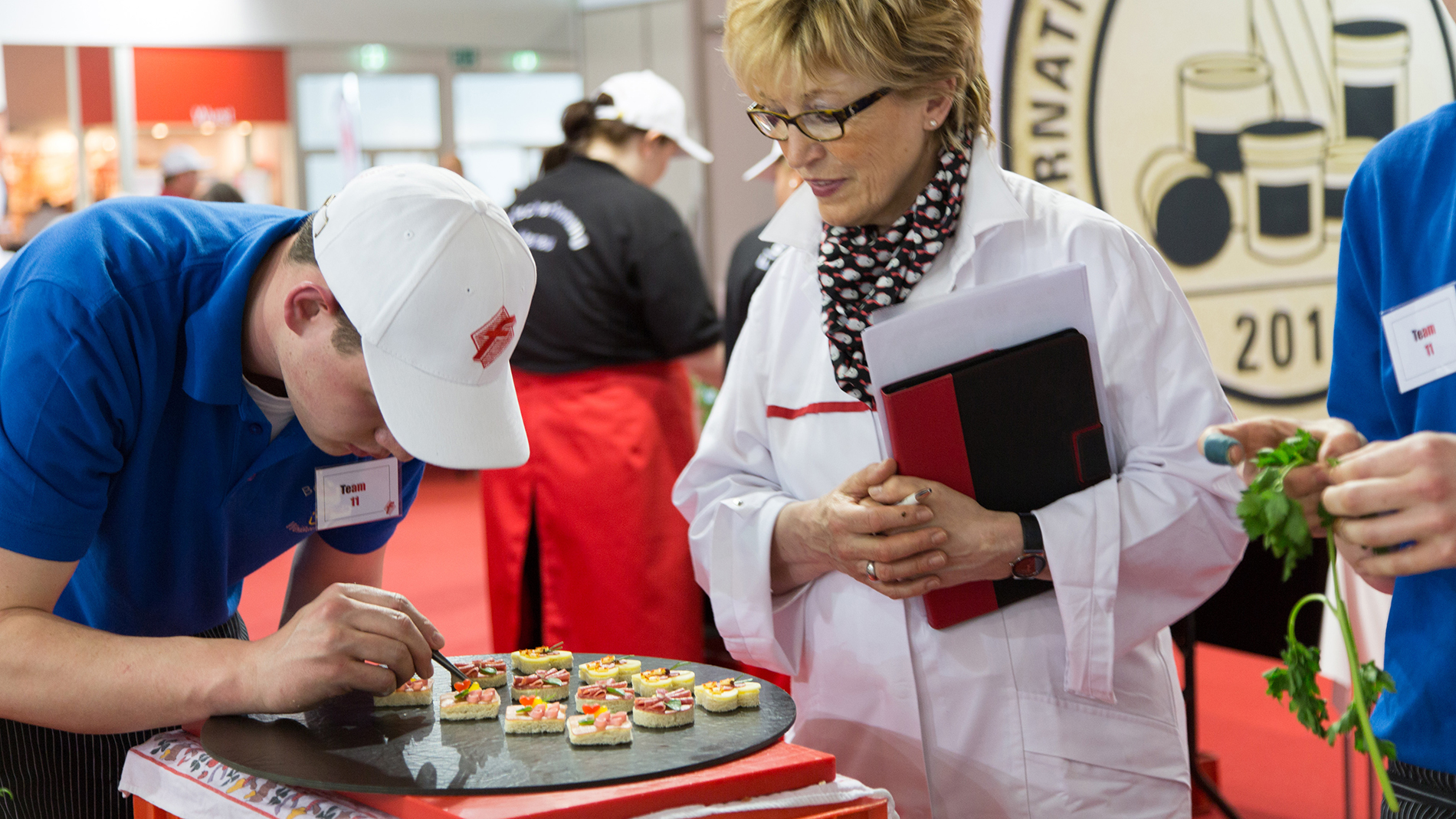 In teams that each include a trainee butcher and specialist meat salesperson, students demonstrated their outstanding levels of achievement. Their task was to prepare and present 20 canapés, together with one barbecue platter and one ready-to-cook product.  
International Quality Competition for Ham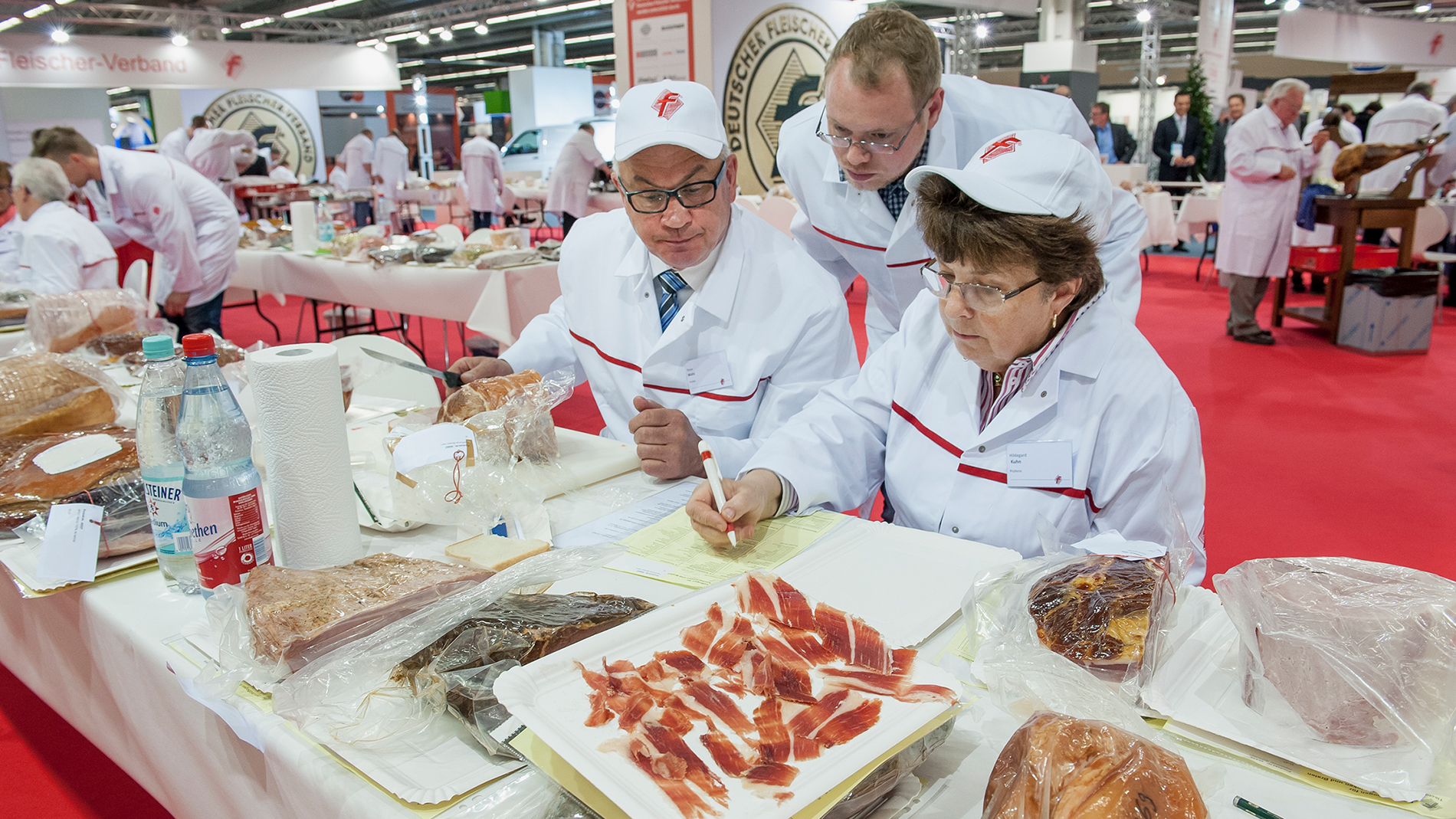 Raw and cooked ham from all over the world were the stars in this competition. The display showcased the impressive variety and skill involved in the achievements of national and international artisans.
Special Exhibition: 'Trendfleischerei – Butchery Trends'
The 'Butchery Trends' in Hall 12.0 showcased ways in which the butcher's shop of tomorrow might create and present their product range, so as attract new target groups and ensure loyalty from established customers. Alongside traditional meat and sausage specialities, adapted to today's tastes and changed eating habits, the selection could also include products that reflect the current spirit of the age. Creativity and skill were needed to pick up on the trends and implemented with the top quality we associate with artisan work. At the same time, master butchers are also increasingly expected to become experts in nutrition. And they are extending their qualifications as product specialists to become for example 'meat sommeliers' - specialists who can advise on wider issues, as well as prepare and sell meat. The special exhibition showcased ideas for ways in which a butcher's shop can react to the enduring trend for the away-from-home market and/or 'food to go'. The special exhibition was a cooperative venture between the J.A.Heyne School of Butchery Frankfurt, the Frankfurt / Rhine-Main Chamber of Trades, the German Butchers' Association (DFV), the Central Cooperative of European Butchers (Zentrag) and Messe Frankfurt.
Photo exhibition 70 years IFFA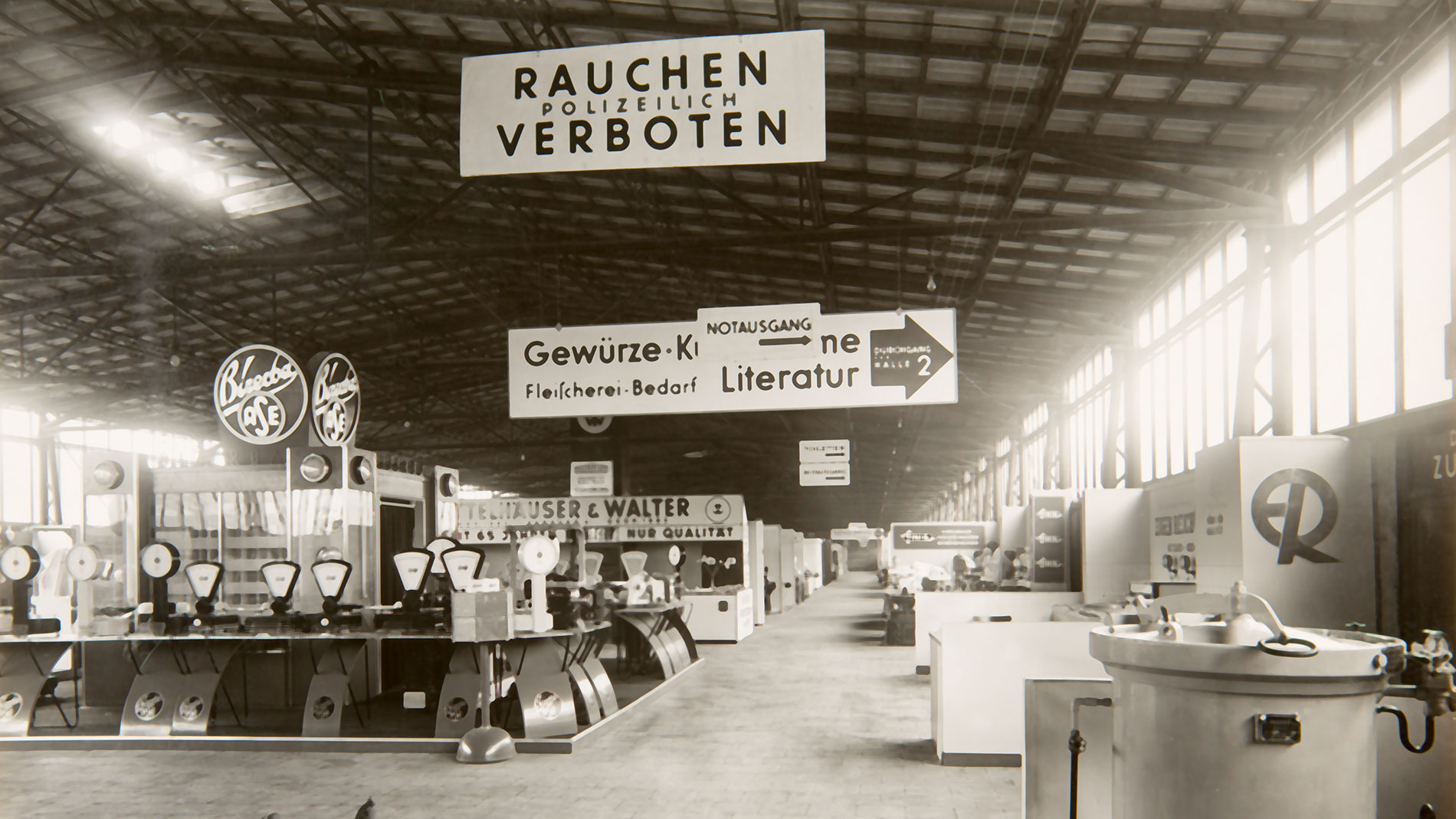 The exhibition showed historical photos from the archives of Messe Frankfurt.